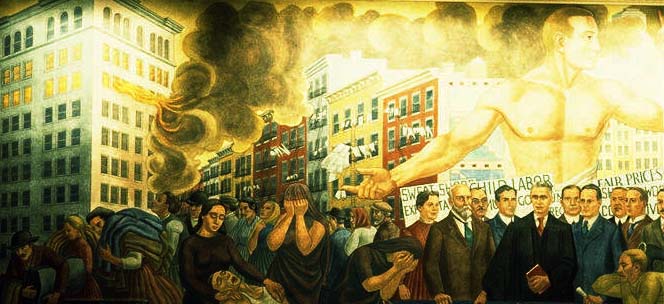 I. Overture: 5:17
A medley of 1911 music, by Joplin, Stravinsky, and Hoschna set the time for the event. Horses on cobblestone, park ambience, trolley cars, and factory noise are mixed in with three diverse melodies.
JOPLIN - Treemonisha; STRAVINSKY - Petrushka; HOSCHNA - Every Little Movement Has A Meaning All Its Own.
II. Minuet
: 4:02
II.In the classical style, innocent of the events which follow. The sounds of birds on a Spring morning open the movement, followed by a background of people at a distance, 1911 traffic, and footsteps.
III III. Scherzo: 2:43
A small explosion in the factory heralds in a change of atmosphere. Syncopation, augmented chords, and ascending scales describe the confusion.
The sound of horses, now running and neighing, accompany a faster, more intense movement than the Minuet. The background ambience of people talking takes on a more anxious quality. The movement ends with the footsteps of Patrolman Meehan racing up the stairs of the burning building, after galloping to the scene from nearby Washington Square Park.
IV. Thud-Dead: 3:10
A blues progression in 5/4, amid the attempts of rescue and survival.
The clanging of fire engines, a brief sound of the fire, a synthesized siren effect, the sounds of breaking glass, and a fire escape are interspersed with an improvised flute solo. In the background are the faint sounds of 62 thuds, a synthesized effect noting the number of girls who unsuccessfully jumped from the building.
V. Funeral March: 2:50
The distant sound of the hymn "Praise God From Whom All Blessings Flow" plays against the cries of anguish depicted in a modulating, accelerating 12 tone melody.
Created entirely within Csound, with a synthesized vocal sound, a synthesized brass sound, reverb, and equalization.
VI. Epilog; Used To Be: 3:12
Reflections of time past, featuring a flute solo intertwined with an ostinato bass. A quartet of MIDI instruments is blended with three Csound instruments; wind, vocal, and a space sound. A meter of 7/4 keeps a steady tempo until the ritard at the end.